Shahrukh Khan
Like most of us my age group, I have also been in love with Rekha from childhood. She is an extremely beautiful woman. I used to think she was first an extremely good dancer and and then a great actor. But those were my boyhood impressions. As I grew up, and also in my profession and understood a bit of filmmaking, my sequential impressions changed and I realised that she is a great actor first, then a dancer.

People say Rekha was her best in Umrao Jaan. My memories of her remain intact from Mr Natwarlal than Umrao Jaan, where she looked inexpressively beautiful. Thats because in Umrao Jaan, you expect her to be a thespian, a great dancer, one with amazing style and adaayen. But in Mr Natwarlal, there is this one scene (its still so fresh in my mind), where she boards a plane with her cattle. There is so much innocence...

I must have met her about 10 times. I have never spent time or acted with her, which is when one gets to know other actors as people. Very few people know what Rekha is all about. She has guarded that knowledge very well, which is good. She has kept the world at bay and lets them know what she wants them to know. I have always wondered how she does it. The first time I met her was at Rakesh Shreshtas studio. I was a new-comer, but she was kind and sweet to me. I remember, once she said she wanted to have coffee with me and my family in Delhi. So, one day she very sweetly called up my in-laws in Delhi and fixed up a date with them. I quite liked that about her. When people reach a certain level, they are very stingy with their compliments and very patronising. Rekha is not like that. She showers you with compliments and makes you feel positive. Rekha brings a smile to your face, which I think is a quality that all of us, specially the entertainers, should achieve.

There are many other stars and there will be plenty more but Rekha, with her enigmatic personality, remains the original diva of the Hindi film industry. She is what stars are made of. She is a true-blue star of all eras. I am a disbeliever in things like mystique and enigma of a star. I believe that the more upfront and clean you are, the more normal you come across. I am a believer that it is not special to be special but special to be ordinary. But, on the other extreme, there is a lot of beauty in the fact that its special to be special. I think Rekhas would be a very, very special life. And, to be able to lead such an enigmatic life while sustaining your celebrity, requires a lot of power, grit and goodness. And thats Rekha for me. Her attraction is her enigma.

Anupam Kher
Rekha is fantastic. She is another person who keeps reinventing herself. I am really looking forward to work with her. I am 100 percent sure she is looking as great as ever."

It is the fact that "all my scenes are with Rekha in 'Super Nani'.It's a very wonderful role and it will be great to work with Rekha after a gap of so many years. I am excited to work with her. We are starting the shooting from the first week of February." I praise her films like 'Utsav', 'Ghar' and 'Umrao Jaan'

Jitendra
Rekha ke saath maine pehli baar film Ek Bechara mein Kaam kiya, Agar Aaj ki Heroines se bhi tulna ki jaye toh Abhinay ki baarikiyon par unki pakad Lajawab hai, iske saath hi saath wo ek shaandaar Insaan bhi hain , Rekha wakayi Guno ka bhandar , unki yahi khoobiyan unki shakshiyat mein 4 Chaand lagati hain, agar Rekha ko God Child kaha jaye toh yeh kuch galat nahi hoga , unki khubiyon ka Bakhan ek shabd mein nahi kiya ja sakta.

Mujhe yaad hai ki main ek baar kisi film ki shooting kar raha tha , usi samay mujhe khabar mili ki Income Tax ke Afsaro ne Mere Bangle par Chapa maara hai, Us samay Ghar pahunchna mere liye kafi mushkil tha kyunki shooting door daraaz Ilaake mein ho rahi thi, maine Rekha ko phone kar unse apne ghar pahunchne aur sabhie cheese manage karne ka anuroodh kiya, mere call par naa keval wo aadhe ghante mein mere ghar pahunch gayi balki halaat ko kaafi khoobsurti se sambhala , iske baad wo set par lauti aur wahan shooting bhi ki , darasal wo lunch break mein mere Ghar gayi thi, Rekha ne us samay meri gair maujdgi mein cheezon ko jis dhang se sambhala , us tarah se main ghar par rehte hue bhi nahi kar sakta tha.
Rekha jaisi bejod mahila ki Jindadili se bharpoor Jazbe ko main salaam karta hun ,Rekha hamesha har kisi ki madad karne ko hardam tayyar rehti hain. Rekha jaisi damdaar shaksiyat ki tulna naa to unke zamane ki kisi abhinetri se ki ja sakti hai aur naa hi Young Generation ki kisi actress se, unko acting ka powerhouse kaha jaye toh galat nahi hoga, pehli hi mulakaat mein maine unme kuch kar gujarne ki aag dekhi thi, Rekha ne jis dhang se apni khoobsurti ko din par din Nikhara hai ah dusron ke liye ek Mishaal hai.
Unke liye main Bhagwaan se yahi kaamna karta hun ki wo un par sabhi khushiyon ki barsat Karen, aur wo isi Charm ke saath 100 baras taka as- paas ke mahaul ko apni Muskurahat se Gulzar karti rahen

Hrithik Roshan

She's cradled me as a child, she's watched me grow up, and I've just had the good fortune, the honor of working with her, rather live our parts as mother and son through my father's film. For some, she's a fantasy, for some a reality, but for me Rekha stands as the Epitome of Love. In fact, to define Love is to define someone like her. Coz love is her strength, love is her passion, love is what she lives by, love is what she gives, and love is all she expects in return. She is the many faces of love. Grace, dignity, and beauty, have never found one common _expression. She is what every man wants and what every woman wants to be. That is, Rekha for me. So, ladies and gentlemen, here is love herself. The one and only Rekha.

Aamir Khan
Rekhaji is an icon for us. Her portrayal of different and varied characters has shown the range of her acting. It is a dream of every new filmmaker to work with her.

Gulshan Grover
 I am a diehard fan of Rekha ji . I have worked with her in several films like 'Kasam Suhag Ki', 'Ladaai', 'Jaal', 'Insaaf Ki Awaaz', 'Sabse Bada Khiladi', and 'Lajja'.
And a couple of days ago, I was rewarded with a fanboy moment when Rekhaji was being honoured at a function in Mumbai. I got the opportunity to present the actress with a shawl, I was also thrilled when she told me that I was looking fit.
I always held her in high esteem. Rekhaji is evergreen. And I am indebted to her because she has been a guiding force in my career. She is gracious and graceful."
Last time when we met, I complained to her about not doing films as it's been a while since he saw her on the big screen. But when I saw her in a commercial some time ago, I was very happy and when we met , I told her that not only was I thrilled to see her in the ad, but also liked her playing nasty.
Then she said that as she wanted to play bad, her inspiration is me (Gulshan), as I am not only excelled in negative roles, but is also her favourite 'baddie'. Such words from Rekhaji made me momentarily emotional.

Ranjeet
I had absolutely forgotten about this get up! I feel so funny with these blue eyes and golden hair.
Rekha tried to teach me Tamil during the shoot — I didn't know that she was only teaching me bad words. That's why I called her as 'naughty girl.

Rakesh Bedi
I used to go to Honey Irani's house in Bandstand and Rekha Ji's house was next to it so we used to sit in the evening and just wait for a glimpse of her. First time when I saw her I was very thrilled and excited and then I got a chance to work with her in a film called "Bahurani" in which I was playing the role of her younger brother.
I have lot of scenes with her. I shot with her for almost 60-70 days. My experience with her was fantastic. She is a wonderful actress and wonderful co-actress and she made me so comfortable. She made me so comfortable that I was in Awe when I started working with her however after a day or two she put me at ease because we had lot of scenes together.
We had some outdoor shooting as well. I shot in Mumbai, around Mumbai, in Kolkata and Shanti Niketan also. I don't know where all I shot. So we had lot of scenes with her and Rakesh Roshan also and we had a wonderful time. Then I did another film with her called "Azad Desh Ke Ghulam" in which again I had a very nice role with her.
I remember that it was a very long shooting schedule in Ooty. It was a fantastic time. She used to wait for me. Infact, she used to wait for my jokes. I used to say a lot of jokes to her and she used to laugh.
She made me very comfortable and I have very sweet memories of her and of course she is a great Diva. She is a great star and a wonderful actress. Its a pleasure to know her and work with her.

Upen Patel
Rekha is the REKHA. Everything about her is mysterious and alluring. Her style, grace, the way she is portrayed in films. She is also my dad's favourite actress.

Tusshar Kapoor


When I was growing up there was a phase when Rekha did most of the movies with my dad. You know, the typical family dramas. She was the wife, and my father, the husband. I used to be quite happy to watch her with my dad in all his films, like quite the done thing, like a daily thaali. Then when I saw Himmatwala, with dad and Sridevi, I was like, 'Who is she? We don't want her to be playing my dad's wife, she's so... eeeee!' I was a die-hard Rekha loyalist.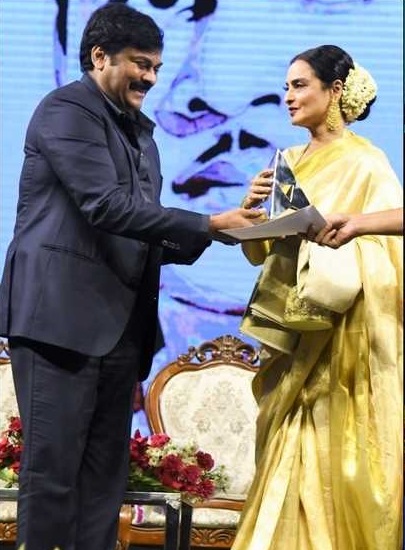 Chiranjeevi
I was very confident till 10 minutes when the anchors announced that I would be receiving award from Rekha. Rekha was my dream girl. I grew up adoring her.
I would love to know how she maintains her body so slim for so many years. If she could tell me that I would become her sishya (protege) for rest of my life. Incidentally this is my 7th filmfare award. When I got my 1st filmfare awards, Kamal Hassan has already won 14 filmfare awards.
At that time, I thought that I would be great if I could get at least half of what Kamal has got. With this award, I got half of what Kamal Hassan got. Now my goal is to get another 7 so that I could equal him.
The Nandi awards take into consideration about artistic value of the films and consider only straight Telugu films. But histrionics are beyond remakes. I feel that Filmfare considers real talent and popularity. I respect Filmfare awards.
Manoj Bajpai

If I am comfortable playing Rekha's husband in Zubeidaa it's because she was firm. She told me, Manoj, "Here, I am playing your wife. So treat me like your wife."
Farooq Shaikh

Rekha is one of the most vibrant and spontaneous actors I have ever worked with. While working with her in Umraao Jaan , I came to know why she is called one of the finest actors. Her reactions in every scene and her portrayal of the character helped me give a better performance.
I still remember How I, along with Rekha and Dina Pathak, had to take a train from Delhi to Lucknow for the shoot. It was a 14-hour overnight journey in winter. They had been promised bedding and breakfast but once the train started, they realized that the production guy had forgotten to load the bedding.

"Dinaji had a shawl but Rekhaji had only a dupatta to ward off the biting cold. It was freezing and forgets about sleeping, we couldn't even sit without our teeth chattering. Yet, not a word of complaint passed through Rekhaji's lips,"

On the return journey, they ensured that the bedding was in place but after getting off in Delhi, discovered that there was no car waiting. Her identity camouflaged by the dupatta, Rekha uncomplainingly stood besides Shaikh in the taxi queue for 35 minutes. As the cab whisked them away, he breathed a sigh of relief.

"Given how big a star she was then, had anyone recognized Rekhaji, she'd have been treated like a queen. But I would have surely landed in a hospital with a few broken bones for coming between her fans and their idol," he'd laughed.

Shashi Kapoor

I saw her first film Sawan Bhadon with Jennifer and I didn't think much of her. At that time women used to wear those ugly hairdos and outrageous eye make-up and Rekha had plenty of both. But Jennifer seemed to have an intuition about her. 'This girl is going to be a big actress,' she said. At that time Rekha was staying at a hotel at Juhu and she used to come to watch my shooting. I never took her seriously. I used to think, yeh gol matol kya karegi (what can this plump girl do)?
Tv Star- Yogendra Vikram Singh

I was on cloud nine these days. Well, I not only got a chance to meet my favourite actress Rekha ji, but we two even exchanged some funny banter. "It was Rekha ji who had introduced my track in the show Ghum Hai Kisikey Pyaar Meiin.
It was a surprise for me to meet her at the wedding reception of Neil (Bhatt) and Aishwarya (Sharma). The best part of the encounter was that Rekha ji herself recognized me and shared anecdotes from the episodes that she saw.
I was completely in awe her when I saw her and interacted with her," says Yogendra, who is a Lucknow University, pass-out.
Tv Star- Arun Mandola

My favourite movie is "Biwi ho to Aisi". She has a tremendous aura, I don't know how she has maintained that aura. Her acting skills are fabulous and still, she is better than any actress.
Some people have a mysterious personality and it is difficult to describe Rakha Ji because of this. All I can say is that she is an inspiration for actors.
Tv Star Sachin Parikh

I have always adored Rekha Ji for her aura, her stunning screen presence and her performances. There are so many films of hers that I have watched and admired. She, at this age of 64, looks as sexy and stunning as she used to look 30 years ago. I wholeheartedly wish Rekha Ji a very Happy Birthday.
I loved her performance in Khoon Bhari Maang so much. I recently shot for my 1st web series and there was a scene where my half face is shown burnt. I immediately related this with her look in Khoon Bhari Maang and I dedicate this get up to her on her 65th birthday.
Tv Star- Ssharad Malhotra

Veteran actress Rekha Ji has always been counted as the number one B- Town diva. Her fashion statements can't be ignored. There are so many films of hers which I have seen umpteen times. But my favourite are "Jhooti", "Khoobsurat", "Silsila".
She has an aura which she is carrying for last so many years and that is the reason people want to see more of her and I wish one day I share the screen with her, that will be my dream project.
Tv Star- Aniruddh Dave

As an artist, I am jealous of Rekha Ji because the various shades of character which she has played on the silver screen which has amazed me.
One of my favourite films is Umarao Jaan. One thing which is very striking about her career is that her performances always received a positive response. Her performance in Umrao Jaan is considered to be one of her best.
She is undoubtedly the ultimate diva of the Indian film industry and her mysterious aura matches with her personality.
Tv Star-Mohammad Nazim

Talk about timeless beauty and veteran actress Rekha Ji's name will forever be there in the list. From her young age, until now, the actress has aged beautifully and gracefully.
Rekha can still give tough competition to many new age actresses. One of my favourite film of Rekha's is "Ghar", the way she has portrayed her character in the film is amazing.
As an actor, I feel we should all watch her film as textbooks to acting well. Rekha's mysterious life has been always a discussion among her fans even the film fraternity is very curious about it.