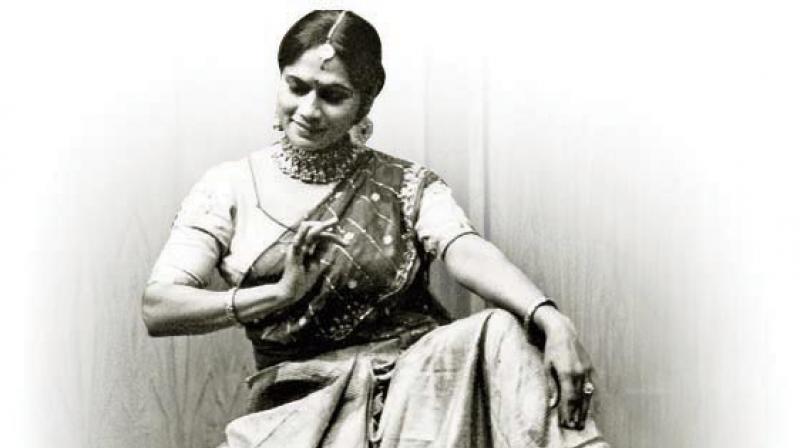 Kumudini Lakhia
Kathak Dancer & Choreographer
Kumudini Lakhia is an Indian Kathak dancer and choreographer based in Ahmedabad, Gujarat, where she founded Kadamb School of Dance and Music.
A pioneer in contemporary Kathak dance. She is particularly known for her multi-person choreographies. She presented Kathak dance in a unique way. She worked as a choreographer in Muzaffar Ali's film 'Umrao Jaan' in the year 1981.
She has been honored with numerous awards and accolades recognizing her worldwide. She received the Padma Bhusan, Padam Shri, Sangeet Natak Academy Award, Kalidas Sammaan and many more.
About Rekha:- Muzaffar Ali was my old friend. One day he came to me and asked me to do choreography for the songs of his film 'Umrao Jaan'. I said that I have never worked in Films and I did not know how it happens in films. I just knew that it takes a lot of time and it was difficult however I could try. Muzaffar said that you have to do it and you would choreograph all the kathak movements.

Then I said alright I would do it. After that, I went to Lucknow. I met Rekha for the first time on the set of 'Umrao Jaan'. Muzaffar Ali introduced me to Rekha. She greeted me with warmth and love. She used to talk to me very respectfully and she used to call me Kumudini Ji.
Really, Rekha is a very lovely person. I must say that she is so friendly that during the making of the film she never made me feel that she is a very big star. She used to behave very nicely and was never reluctant to learn. She never made me feel that I could not train her as she is already an excellent actress instead she enjoys working with me.
She used to practice each and every movement which I used to teach her . Once she knocked at 2 in the night and asked me to teach her the feet movements which I taught her that day. I was astonished to hear that. She was very conscious and sincere towards her work. Undoubtedly, she is very hardworking, committed and particular towards her work.
She performed her dance steps as I instructed her to do. Some times retake happened due to the angle of the light or due to camera angle. Whenever she used to go for rehearsal she used to take blessings from me by touching my feet. She is so down to earth and a lovely person.
Its been more than 30 years for the film Umrao Jaan was released however she looks as stunning as she was before. I still remember the last song of the film ' Yeh Kya Jagah Doston'. During this song mess happened and the costume which came from Mumbai had a deep neck. Muzaffar said that this costume would not work and the shooting was after two days and every body would be there what could be done about the costume.
Muzaffar Ali informed us that in Lucknow also they have very good tailors who work really well. He called the tailor asked if he could stich a dress for his film. Tailor said that he could try but he would need the measurements. Then Muzaffar asked me to take Rekha to the tailor. Now the question was to how we can take a renowned actress to the market as every body would recognise her and it would create a chaos in that area. Being a popular actress it was difficult to take her out.
Then the solution was that she should go out in a 'Burkha' so that no one can see her and we did the same. Then Rekha and I went to the Tailor in a rikshaw in which only two people could sit. When we reached there we asked the tailor to lock the door from inside and he immediately locked the door. He also offered us Tea, samosa and sweets however we asked him to take the measurements quickly as we had to go back. She gave the measurements and we returned back.

After we dealt with the problem of the costume the next thing to handle was Jewellery. Then we thought of going a Jewellery shop. I knew one Jewellery shop as we used to buy stuff from there for our institute 'Kadamb'. The Jewellery shop was in 'Gadbad jhala' Market.

I called the shop keeper and informed him that I would come to his shop along with a celebrity and it would create rush in his shop and the entire market might get closed. I informed him that I would come along with the actress Rekha and he should not disclose it to any one. After giving instructions to the shop keeper Rekha wore Burkha but this time the colour of Burkha was different and we went to the market.
We reached the shop and asked the shopkeeper to close the door. Then we found that although there were no outsiders however his entire family was there. His wife, Brother and sister in law all were there. I asked him why were those people there. Then he said that those were his family members and how could he miss such an opportunity. We selected the jewellery and we also selected some jewellery from the pictures shown by the shop keeper. The jewellery was really very beautiful.
These were two memorable instances which happened during the shooting of the Film 'Umrao Jaan'. I really enjoyed working with Rekha. Then she went on a tour to America. She also performed on stage in America on the songs of Umrao Jaan which the audience appreciated so much. After she returned from the tour she called me and said that the tour was very nice and she enjoyed a lot and the best part was the songs of Umrao Jaan which every body liked and appreciated.
The way she appreciated my work and told me about her experience really touched my heart. After the phone call I thought that she is a wonderful human being and she never made me realise that she is very busy or a very big star.

Really, being a superstar she never behaved like a superstar. She is very nice and very lovable. In the year 1989 I invited her to my son's wedding. She attended the wedding on my invitation. I felt really happy meeting her after such a long time. All our old memories of the Film 'Umrao jaan' got refreshed.
About Our Organisation:- I am so happy to share my memorable memories of working with Rekha. I also want to congratulate you and your team for doing such a great job. You are working on such great Legends and keep their memories alive. My best wishes are with you.