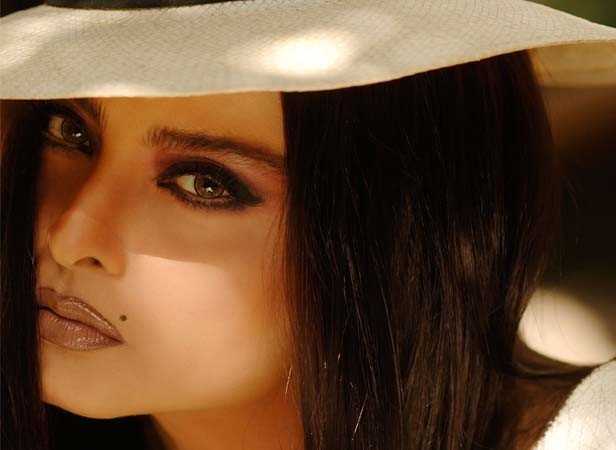 Rekha

a name that spelles Beauty, Sensuality, Grace, Dignity and many more...
She is the Ultimate Queen of Bollwood who ruled over millions of hearts .She is a forever Diva, Maha Style Icon, Evergreen Heroine, A Mega Star, has been called -The Madona.

She has a long journey in Indian cinema, entertain us from 1970's to till today.

Personal Details
Original Name:- Bhanu Rekha Ganeshan
Born:- 10th October 1954
Place:-Tamilnadu, Chennai, India
Education:- Matric , Scared Heart Convent Church Park Chennai
Height:- 5'7 (170cm)
Hair Color:- Black
Zodiac Sign:- Libra
Language:- Hindi, English, Urdu, Tamil
Occupation:- Acting
Hobbies:- Watching Films, Collecting Postcards, Drawing Cartoons, Paimting,Mimicking People, Photography, Collecting old Photographs
Contact Address:- Sea Springs, Bungalow no.2 band stand Bandra Mumbai 40050
Family Background
Father:-Gemini Ganesan (Tamil Actor)
Mother:-Pushpawali (Telugu Actress)
Siblings:-She has a Sister, One half brother and five half Sisters
Filmi Background
Bhanurekha acted in a Telugu Film Inti Guttu as a Baby Bhanurekha along with her Mother in 1958. After that Baby Bhaurekha acted in Teluu Film Rangula Ratnam in 1966 as Which was subsequently re- made & released in 1976 as Rangeela Ratan.

Rekha made her Debut as a Heroine in the Successful Kannada Film Godavali Cid 999 & Ammakosam with Dr. Rajkumar

Rekha first hindi film was Sawan Bhadon in 1970, film was Hit Rekha becane a Star Overnight. She acted in over 200 Films in her 50 years Career, taking part in both Commercial & Art as well.

As Critical Praise for her Performance throughout the Years.
Rekha has Won one National award, four Filmfare awards and so many more.

Today at 60 plus she still in demand and doing TV Shows, Item numbers & makes News in every Award Function. Really She is truly a Legend.
Something Special
Rekha does Yoga everyday .She is a Vegetarian.
She is very Religious and Spiritual, believe in Re Birth, according to herself She was a Raj Nartki in her last Birth (Rajasthan)

She has a large collection of Tissue Kanjeevaram & chiffon Sarees.
She sends regularly some money for prostitutes (when she herself act as a Courtesan in Umrao Jaan)
She love Babies & Toys
MOST MEMORABLE PERFORMANCES
My most memorable performance is still to come, but if you're talking about memorable films, then there's... Saawan Bhadon, Do Anjaane, Aalap, Muqaddar Ka Sikander, Ghar, Silsila, Umrao Jaan, Khoon Bhari Maang, Ijazat, Phool Bane Angaarey
MEMORABLE PERFORMANCES BY NATIONAL/ INTERNATIONAL STARS
1.The Romantic Scene that Madhubala did in Mughal-E-Azam
2.French lieutenant's Woman, which I've seen over and over again
3.Tomy in Scarface: I'd love to da a female version of the human side of him.
4.Padosan:Everytime things are going wrong
5.RockyIII:I can watch it all the time because I associate it with begining of a very bubbly part of my Life.
6.Meena kumari in Pakeezah and Sahib Biwi aur Gulam
7.Gurudautt in Pyasa
8.Nargis in Mother India
9.Wahida Rehman in Guide
10Amitabh Bachachan in Saudagar
11. Shahrukh Khan in Chak De India
FAVOURITE WESTERN SINGERS
 Laura Branigan. Barbara, Bryan Adam, Tina Turner, Whitney Houston & Sting
FAVOURITE INDIAN SINGERS
Lata Mangeshkar, Asha Bhonsle, Mehndi Hasan (Pakistan)
FAVOURITE SHOW
She is huge fan of Oprah winfrey and watches it regularly.
FAVOURITE TV CHANNEL
CNN & Star World
FAVOURITE BOOK & MAGAZINES
Conversation with God,
Cosmopolitan, Filmfare & Elle
Dennis the Menace, Little Dot, Archie Comics, I m Betty no Veronica.
FAVOURITE PERFUMES
Intimate, Lilly, Drench & Lavleena
FAVOURITE COLOR
Golden, White & Red
FAVOURITE PEOPLE
Pisti: She's a person, the most sincere person.
My mother: For obvious reasons.
The late Jennifer Kapoor: A major influence in my life.
The Iate Mrs. lndira Gandhi: Mere words can't explain what I felt for her.
Oprah Winfrey: She's too good to be true and so genuine too
ADMIRATION
Maharani Gayatri Devi ,Krishna Raj Kapoor,Sophia Loren
Smt. Sonia Gandhi
FAVOURITE CARS
Lamborghini Porsche, Maruti 800, Volkswagen Beetle, Jaguar
FAVOURITE JEWELLERY
Oxidised Silver, Old Jadhau Pearls Jewellery made from cloth, Old Egyptian jewellery
FOREIGN HOLIDAY HAUNT
Rome, San Francisco, Long Island, New York, West Palm Beach Japan
FAVOURITE MUMBAI SPOTS
Queen's Necklace, Marine Drive
Peace point, Bandra Land's End, to watch the bay
Taj Mahal Hotel's poolside, especially after 2 am
Of course my house 'Pushpavalli'
FAVOURITE GAME
Table Tennis
FILMS SHE WISHED DONE
1.Loved to have made the whole of Silent Movie
2.To Play Jessica in Roger Rabbit
3.Scent of a woman: A Female Version,
4.Godfather III again a female version
5.Madhubala in Mughal-E- Azam ,but that only my co-star was or is as inspirational
FAVOURITE ENGLISH SONGS
1.Self Control by Laura Branigan
2. I am a Woman in love by Barbara Streisand
3. Right here waiting for you by Richard Marx
4. I said I love you but I lied by Michael Bolton
5. I'll be watching you by sting
6. Everything I do, I do it for you by Bryan Adams
7. I'll always love you by Whitney Houston
8. I wanna run to you... By whifney Houston
FAVOURITE HINDI SONGS
1.Pyar Kiya Toh Darna Kya
2. Allah Tero Naam
3. Waqt Ne Kiya Kya Sitam
4. Tum Agar Bhool Bhi Jao
5.Main Toh Kabse Khadi Iss Dwar
6. Mere Mehboob Tujhe Meri
7. Humne Dekhi Hai in Aankho ki
8. Tujhse Naraj Nahi Zindgi
9. Yeh Kahan Aa Gaye Hum
10. Ranjish hi Sahi
 11. Mujhe Tum Nazar Se Gira Toh Rahe
FAVOURITE RESTAURANTS
China Garden Shamiana
The Taj Trattoria at The President
The Thai restaurant at the President
The ViIlage at Worli
FAVOURITE DISH & DESERTS
ladyfinger, & Green Veg with lots of salad
Chilled Beetroot Soup, Deserts:- Rasmalai
She is crazy for Chocolates.
DIRECTORS SHE LOVED TO HAVE WORKED WITH
The late Raj Kapoor,The Late Guru Dutt,The Late K Asif
Mani Ratnam, Sooraj Barjatya, Shekhar Kapoor
Sanjay Leela Bhansali and Karan Johar
CO-STAR SHE WANTS TO WORK
Kamal Hasan, Sanjay Dutt and Shahrukh Khan
MOST IMPORTANT FACTORS IN A MAN
Honesty ,Hard working ,Good social behaviour, Sense of humour The ability to laugh at himself
THINGS SHE'D LIKE TO DO
Change the world to make it a better place.
Have the authority to stop wars.
Change the dimensions of my figure.
Create a wonder drug to make love last.
To go back into my future... Not my past. I know it's a fantasy come true but I intend doing just that. If not in real life, then via films. Hope to God, to see that day.
FILMS SHE'D WISHED SHE'D DONE
Loved to have made the whole of Silent Movie.
To play Jessica in Roger Rabbit.
Scent of a Woman: A female version.
Godfather III: Again a female version.
Madhubala in Mughal-E-Azam. But that's only if my co-star was or is as inspirational.
THINGS SHE'D LIKE TO DO RETIRING AS AN ACTRESS
Open my own Boutique
Seriously start studying Classical Music
Open a big Beauty and Make-up Centre
Establish an institution for the invalids
Try my hand at Direction
MOST DISAPPOINTING MOMENTS
Had to leave school due to Financial reasons
Could never learn classical dancing
Can never keep thin and slim, unless I diet and exercise
Couldn't buy a plot of land on Madh Island because I am a film star
After a full day and night at Tirupati, I could never get a darshan
MOST HAPPIEST MOMENTS
When I got the National Award. But more important, the person who informed me of it.
When I could finally reduce my weight.
That particular day when I realised that I could never be alone and that I could be my best friend.
The day I realised that there is life and that I should live it to the fullest.
The day that I know I'm going to become a mother.
IDEA OF ROMANCE
To look into his eyes first thing as you awaken.
To be with your loved one at the dining table and not be able to eat a morsel.
To be miles away from my man and then suddenly smell his body and be overwhelmed by memories.
To speak for hours on the phone long distance, when he's away.
To shop for a gift for my special one, and the thrill of planning how to wrap 'it, write a card and how to present that gift.